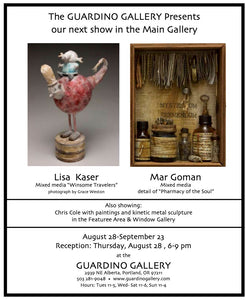 September 2008: Lisa Kaser & Mar Goman
Lisa Kaser creates imaginative mixed media sculptures with narrative as her focus. Her background in textiles, needle-arts, carving and illustration has shaped the direction of her sculptural work. "Creating scenarios with her characters that evoke a moment of clarity, purpose, joy or mystery is meaningful and fun for me as an artist. The narrative has emerged as one of my favorite exploits," to quote Kaser. Her fondness of texture, and handwork is a compelling factor in her work. All her three dimensional pieces are hand sewn onto armatures bent out of street sweeper bristles that she finds on her daily walks. The materials she uses are a mix of hemp, linen, recycled cloth or wool felt that she produces and embellishes with found objects and lastly encased in layers of natural beeswax. 

Mar Goman's will be showing mixed media work including a new series, "Pharmacy of the Soul".  For these pieces she has altered old bottles and placed them in small found cabinets or boxes with other symbols of the spiritual journey. As usual, the work is made from a variety of found and recycled materials and contains text as well as objects. She will also be showing new dress pieces and framed mixed-media work.  Her work uses found wood, paper, fabric, embroidery, sewing, transfer, drawing, and whatever else seems to fit into the mix. She tries not to place boundaries on her work in terms of media or materials and uses natural objects and the cast-offs of a consumer society. Mar Goman's work is eccentric and unique and does not easily fit into any particular category of art.