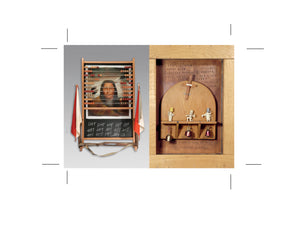 September 2007: Mark Teresa & Bill Dean
Mark Teresa's recent mixed media assemblages incorporate the use of words into his pieces, both of his own writings and quotes from others.  He calls his work "three dimensional poems".    He works within a structure or box and fills it with life.  Themes range from his critique of consumerism, our current government, protecting the environment to romantic love. His ever-present "tongue in cheek" humor is readily apparent.
Bill Dean creates strong narratives with found objects. Dean haunts yard, garage and estate sales, often finding a peculiar object that captures his interest. According to Dean "This chosen piece triggers the memory of some hidden object in a box or on a shelf in my studio. Once united, the play and magic starts by adding or subtracting additional elements. Dean's use of titles is the final step in adding one more layer. His work is oftentimes playful and other times socially charged.