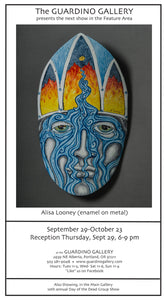 October 2016: Alisa Looney
Alisa Looney is a metal sculptor and enamelist, known for her public sculptures in the Northwest. Her current enamel work explores the theme: "Folding into Nature." She is interested in how we as humans are coping with the environmental and cultural challenges we are facing. She is presenting work that explores the many ways we find meaningful moments amidst these challenges, even joy, reaching for a calm acceptance of what is.
"Spirit Masks" are intended to provide guidance or protection in an area of life or special place. Several portray people finding solace through creative expression in visual art, dance or theatre. Other works explore how we connect to our inner wildness through nature, or how we bridge cultural boundaries by joining together. Each piece is plasma cut from steel, sanded, hammered and/or TIG welded. Images are hand-painted with porcelain enamel (glass), using an ancient painting technique first developed in the 1100's in Limoges France. Liquid glass (powder) is applied in several layers using dipping, spraying, painting and scgraffito techniques, and fired at 1500 to 1350 degrees often 6 or more times to achieve a lustrous smooth glass surface. This alchemy results in heirloom works with vibrant color that will never fade.