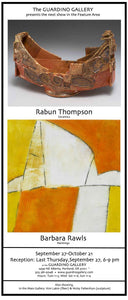 October 2012: Rabun Thompson & Barbara Rawls
Barbara Rawls is a painter using a variety of materials She paints utilizing layers of mixed media and acrylic on panel in her abstract paintings. Mixed media materials include acrylic, calcite, conté, charcoal, graphite, and collage. The surface becomes rich with the emphasis on chroma. The luminous layers of color utilize techniques similar to fresco. This in combination with her mark making allows her to develop layers of saturated color. The range of surface she creates in her paintings includes layers of texture that are scribed and scraped to reveal the surface below to thin films of acrylic color wash. She constructs imagery from visual fragments informed by time, abstracted elements change and growth. Barbara's work is informed by time, growth, change and origin.
Rabun Thompson works in high fire ceramics. His process concerns textures and forms. His methods of production reflect his life in Oregon His color palette includes a healthy dose of earth tones with the addition of high gloss glazes and warmer tones. He like the balance of cool to warmer tones to create contrast and balance. His forms are hand built with a few additions of thrown elements. Rabun also loves has a love asymmetry and you can find it evident in his work. To quote Rabun about his work, "High fire stoneware is reminiscent of wood fire pottery, but it's not wood fire. I make it this way so that could have more control on the surface glazing effect." He produces a warm and rich product.