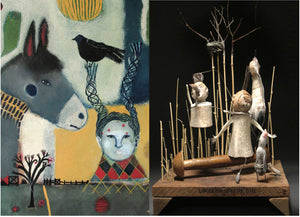 October 2010: Katherine Dunn & Lisa Kaser
Katherine Dunn works with acrylics and mixed media. Her illustrative primitive folk style weaves together layers of color and textures, along with collaged bits of color whose shapes refer to an inner set of symbols.
Lisa Kaser creates mixed media sculptures that are narrative in nature. Her fondness of texture, and handwork is a compelling factor in her work.  She combines found objects, woodcarving, hand-sewn felt over linen thread bound armatures encased in layers of natural beeswax.