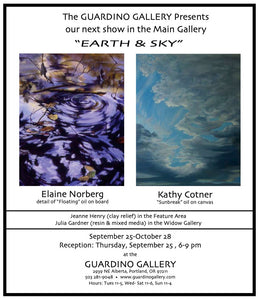 October 2008: Elaine Norberg & Kathy Cotner
The theme for theme next show at the Guardino Gallery will be "Earth & Sky". The show will feature the paintings of Elaine Norberg (Earth) and Kathy Cotner (Sky). The show opens Thursday, September 25 with a reception for the artists. It will run through October 28.
Elaine Norberg's paintings celebrate the wild and untamed environment and the mesmerizing chaos that is orchestrated by nature on its' own terms. Whether using the buttery consistency of oil paints or the pure, finely ground pigments of soft pastels, painting is her way to explore what is filtered through her senses.
Kathy Cotner's focus of her paintings could aptly called "sky studies". She works in oils on canvas with a painting medium. The result is a transparent paint film, perfect for creating luminous atmospheric layers and capturing dimensional, yet vaporous clouds. Her paintings featuring sunrises and sunsets reflect their varied light and color.