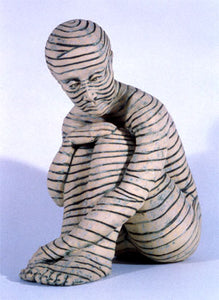 November 2004: June Underwood & Maria Wickwire
June O. Underwood is a Portland artist who works primarily in textiles. For this exhibit, "Gently Enmeshed," Underwood combines wire mesh and fabric into wall and pedestal concoctions.   Two materials, mesh and fabric, have many commonalities -- grid structures and pliability -- but they also include contrasts of light reflections and tactility. The combining of the two presents a new kind of visual and tactile sensation.  She dyes and prints many of the fabrics she uses.   For the photographic-printed fabrics, she either uses old photographs from antique shops or photographs she herself has taken. Underwood started as a quilter, and the influence of quilting techniques, particularly in the heavy machine stitching, is part of the process she uses to create her art.
Maria Wickwire is a poet and sculptor. For this exhibit, "Life Stories," her sculptures are created the same way she creates her writings; by discovering the message through the art of process.  She creates high-fire ceramic, coil built sculptures with layers of glazing.  Her sculptures are primarily feminine forms.  Her figures evoke a sense of grace with their connection to their interior life.  Each one has its own story which has left an impression on its body.  For example, in Wickwire' piece entitled "Rings," the seated figure is engraved with concentric lines that resemble the rings of a tree. By reading the rings a person can read a map of the growth of the tree -- the years of draught, fire, and flourishing. The markings on Wickwire' sculptural forms express how life writes its story into our bodies.