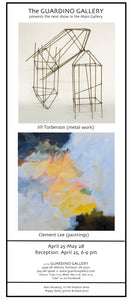 May 2019: Jill Torberson & Clement Lee
Clement Lee art is a fusion of cultures and geography, drawing on his early years in China and Brazil before settling in the U.S. This cultural blend inspires his art and often reflects both the inherent conflict and the harmony brought by such diverse lifestyles. To quote Clement "Depending on mood, events, or an inner voice, the essence of one culture may dominate my work bringing out the gestural strokes of calligraphy, the heat and vibe of an afternoon in Rio, or the abstract reflection of my surroundings by simply looking up and looking down. Acrylic is my primary medium, often enhanced by the use of charcoal, oil pastels and frequently incorporating collage effects to tell a story or express a feeling. I also use brushes, palate knives and any object within reach that will make the mark I am seeking on paper or canvas. 
Jill Torberson is an artist working in steel and mixed media. Jill's design approach to steelwork is to create pieces that are light by design. "Light" in these works refers to both the structure as well as the way in which light and shadow interact with the art. She allows the structural integrity of the steel do the work, which enables her to design and fabricate artwork that seemingly floats, or is light, or can be seemingly fragile. Steel is the perfect material to realize her vision of lightness and strength. Jill is also interested in the natural patinas found in oxidized steel. She combines these patterns with acrylic paint and concrete to create wall works that are multi-layered and rich in both colors and textures.