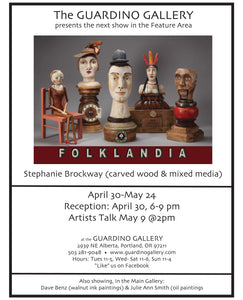 May 2015: Stephanie Brockway
FOLKLANDIA
folk'-art' adj.
folk artist n.
folklandia v.  a celebration of primitive  folk art, with a Portland twist
Stephanie Brockway is a self taught primitive style modern folk artist.  To quote Stephanie "I rely on brut intuition, to hone my craft. I come to my pieces by collecting salvaged wood & antique pieces  from around the Portland area. 
I hope to surprise and amuse with the materials I use . The faces, once carved, seem to come to life with personalities and charm."She explains that wood as a medium to both carve and paint has energy that comes from it once being a living source. Its unique quality and character bring depth to her one of a kind pieces.
Stephanie's paintings are on salvaged wood canvases that she builds. "I strive to elevate used elements into heirlooms.. Taking some cues from a bygone era, I seek simplicity and innocence in a world of too many mass produced objects."