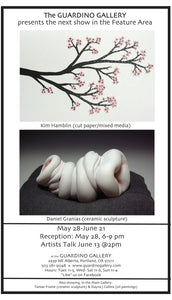 May 2015: Kim Hamblin & Daniel Granias
Kim Hamblin's cuts paper, paints and nails it to wood panels with tiny nails. The combination of the delicate cut paper with the industrial nature of nails make for a unique contemporary take on an the medium.
Daniel Granias is an artist specializing in ceramic sculpture. He manipulates the clay to mimic the qualities of living tissue as it folds, wrinkles, stretches, and squeezes itself, by means of external and/or internal forces.