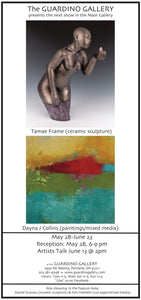 May 2015: Dayna Collins & Tamae Frame
Dayna Collins paintings are created from layers of plaster, oil, cold wax, and markings. Her themes explores aging, addictions, secrets, joy, environmental issues, health, and friendship.
Tamae Frame's ceramic sculptures depicts female figures, in which her emotions, moods, and feelings play out. He intention is to give meaning to that insight and sublimate it into an archetype of the psyche.