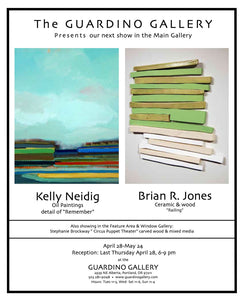 May 2011: Kelly Neidig & Brian R. Jones
Brian R. Jones is a ceramist creating mixed media wall work. He calls them "Constructions." They are comprised of clay, plywood and acrylic. Brian refers to them as the closest thing to his drawings. They are a direct translation of his paper and watercolor drawings into other media. "My current work," says Brian, "lies in my interest in the investigation of the transformative character of memories. A remembrance of a jar, cup, and plate serves as the point of departure for contemplation of form, color, and tone. The nature of how a pot reveals itself over time to an audience is the long echo of that initial reverie. The pot is both a reservoir and an initiator of memories." He will also be showing some small painted wood forms he calls "Prototypes". These will be quickly constructed forms that will reference letters and forms found in nature.
Kelly Neidig's oil paintings blur the line between abstract and landscape. Her favorite memories are of the long car rides to her grandparents' house in the country. "I loved staring out the window watching the landscape zoom by.  Then I would sit next to my Pap at the dining room table and draw." After high school Kelly attended school as a Landscape Architecture student.  She spent two years learning how to create and interpret the environment before her desire for art led her to the Integrative Arts program. Kelly was able to use her Landscape background as a foundation for a degree in Art.  After graduation she lived in Arizona exploring the southwest and gaining inspiration from the vast open desert.  In 2005 her longing for rain, grass and trees led her to the Portland, OR. "Elements of the Pacific Northwest strongly appear in my paintings, yet they also reflect colors and memories from the places I have lived and traveled," to quote Kelly.