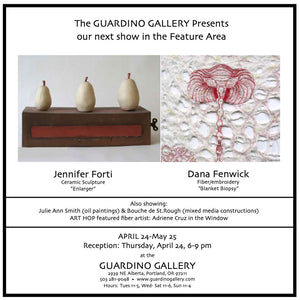 May 2008: Jennifer Forti & Dana Fenwick
Jennifer Forti is a ceramic artist who delights in the offbeat and quirky. All of her work is hand built clay sculpture with some elements of mixed media. In this show she will concentrate on the "Do Not Wind Up Toy" theme. She is attracted to random everyday objects (whether it is a pear or an egg) and by adding an element of surprise in the aspect of a wind-up key transforms the mundane into a playful subject. To quote Jennifer "Lately I've been exploring and having fun with the image of the pear.  I don't know why I got hooked into the image of the pear, maybe because they're similar in shape to eggs and I've been making a lot of eggs.  Basically, I chose it because I liked the way it looked and the way it made me feel. I wanted to play with it." The show will therefore include some new "pear" pieces, as well as eggs and hearts, all tying into the toy theme.
Dana Fenwick uses aged textiles and embroidery to explore the strength and resilience of the human body. Her images are loosely based on tracings from science textbooks. By using the traditionally feminine craft of embroidery to depict textbook medical diagrams Fenwick is using a woman's "domestic science" to explore the hard sciences, an area of study that women have historically been excluded from. Natural imagery on many textiles display an idealistic schematic of nature. Medical diagrams show a generic example of the human body. Both of these are absurdly contrasting to the actual diversity and abundance of anomalies present in complex living organisms. This scientific paradigm contrasts new thinking in systems theory, which considers all parts acting together as a whole.