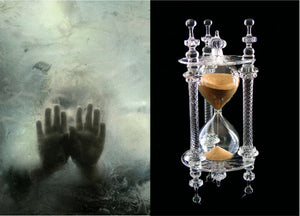 May 2007: Andy Paiko & Smith Eliot
The Guardino Gallery will be celebrating their ten-year anniversary this May. In 1997 the gallery, along with several other art related business on Alberta Street, organized the first "Last Thursday" Artwalk. Thereafter, the Guardino Gallery has presented changing gallery shows every month and developed a vibrant gift shop. May's celebration begins with a gallery show featuring glass and photographs from Andy Paiko and Smith Eliot, respectfully. The show opens with a reception on April 26, 6-9 pm, and continues through May 29.
Andy Paiko's blown and sculpted glass challenges the role of glass in relation to its function such as his working "Seismograph". Paiko makes things that try to both communicate and imitate purpose. His process has developed to extend layering individual glass parts that pare fused cold, away from the furnace to form a collage of sorts. This allows for a degree of detail and complexity difficult to achieve on the end of a blowpipe, where a critical immediacy can hinder contemplation. Paiko continues to study new methods of coloration, patterning, and form, including everything from vessel-ware to assembled sculpture and custom design.
Smith Eliot will be showing photo-based acrylic lifts on canvas. Her images are an atmospheric tour d' farce with seductive imagery that is somewhat performance in nature. Eliot's photographic images are shot onto black and white film. Traditional silver gelatin prints are made from them and then toned, hand-painted and high-resolution digital files are created of them. Archival pigment prints are then generated from these digital files. After the image is mounted, the varnishing process begins. Each piece gets many layers of varnish. The final result is a vibrant artwork with an encaustic-like finish.