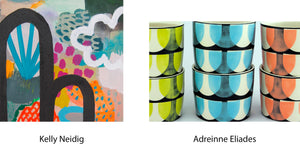 March 2021: Kelly Neidig & Adrienne Eliades
Kelly Neidig draws inspiration from prehistoric art representations of astronomical events, her favorite cartoons, and quantum physics. Her works references recognizable forms. By contesting the division between the realm of memory and the realm of experience, she creates intense personal moments masterfully created by means of rules and omissions, acceptance and refusal, luring the viewer round and round in circles. Originally from Pittsburgh, PA, Kelly Neidig attended Penn State University. She graduated with a B.A. in Integrative Arts combining fine art and landscape architecture. She currently lives and works in Portland, OR. Neidig mainly works with acrylic paint on paper and canvas. In 2009 Neidig was invited to show her work in the exhibition Representing Abstraction at the Museum of Northwest Art in WA. In 2012 she was selected to participate in the 10th NW Biennial at the Tacoma Art Museum in WA. Kelly has received several awards and has her work in collection across the United States.
Adrienne Eliades ceramic work is inspired by recurring motifs observed in her environment. Patterns are all around us. Wallpaper, concrete screens, manhole covers, and security envelopes provide rich source materials reminiscent of the marks people make on the world. Based on a visual language of color, line, and shape, rather than words, patterns can evoke emotional responses connected to memory. Adrienne harnesses the allure of the repeat pattern to captivate the user's attention. Drawing on the comfort of regularity, she creates areas of appeal with deviations in the visual motifs. Her design-focused functional tableware sets the stage for emphasizing delight in eating experiences.