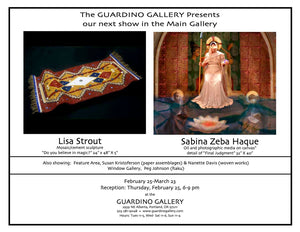 March 2010: Sabina Zeba & Lisa Strout
Sabina Zeba Haque artwork combines photography, collage and painting, to synthesize her complex relationship to her diverse Christian and Muslim heritage.  By reconstructing popular icons, she examines issues of race, geopolitics and gender across cultural boundaries.
Lisa Strout has chosen mosaic & cement as her sculpting media for it's ability to work it into any shape. In her series, "Fabric Through The Looking Glass", she creates works in mosaics that are usually made of fabric or textile, such as pillows, rugs, hat & quilts.