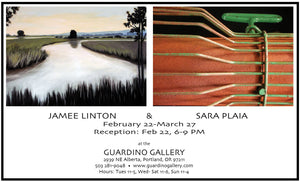 March 2007: Jamee Linton & Sara Plaia
The unusual pairing of romantic landscapes and kinetic found art sculpture brings together two artists, Jamee Linton and Sara Plaia, for the March show at the Guardino Gallery. The show opens with a reception for the artists on last Thursday, February 22, 6-9 pm and runs through March 27.
Jamee Linton's paintings are a balance between the real and the ideal and define a concept focused on nature, the appreciation of beauty and human emotions. Working in oil and acrylic on both canvas and panel, Linton paints landscapes as places of solitude and contemplation; "Contemporary Romantic Landscapes" as she refers to them. In several of the paintings a figure is carved into the panel as a secondary element. The positioning of landscape and figure symbolizes the contrast between society, nature and self, creating a metaphor for the constant quest to maintain balance.
Sara Plaia's art combines found objects and raw materials to create interactive, kinetic sculptures. Her work is about exploration and playfulness. Plaia create objects that can be handled and examined. By incorporating elements that appeal to a number of our senses she aims to create an intimate dialogue with each viewer. Some pieces produce movement and sound when one observes with the hands as well as their eyes. To quote Plaia "I believe the viewer plays an equally integral role as I in bringing the sculptures to life."