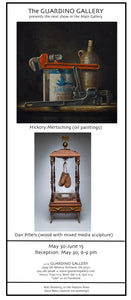 June 2019: Hickory Mertsching & Dan Pillers
Hickory Mertsching is an oil painter concentrating in still lifes.  His painting tell a quiet contemplative story. "My medium of choice has always been oil paint, I find the modeling properties to be endless and timeless. My brushwork presentation ranges from forced illustrative techniques to loose impressionistic interpretation employing a limited palette with modest color schemes to create a harmonious picture plane. I also enjoy values." Provincial influences and historical painting genres, such as Flemish still lifes are the inspiration for Hickory's Paintings.
Dan Pillers art conveys social and political thought using a diverse range of available materials. Dan is intrigued with the notion of art as artifact and vice-a-versa.  Over the past several years he's been creating "sculptural bricolage" as means to communicate his thoughts and feelings about the world in which we live.  He combines a variety of salvaged materials and artifacts as a form of personal storytelling.  By doing so he creates a sort of reliquary with an opinion.  The materials he uses are remnants of things gone by.  These add a level of familiarity as well as a heightened sense of history.   Through a painstaking process of deconstructing, reimagining, and assembling random objects Dan creates beautiful, yet provocative, works of art.