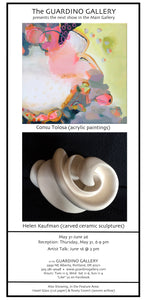 June 2018: Consu Tolosa & Helen Kaufman
Consu Tolosa is a painter of bright and dynamic mixed-media abstracts, exploring and depicting the complexity of emotions contained in human relationships. She has created "Pleasures + Perils" as a visual exploration of relational and emotional landscapes. In this collection Consu uses color and shape to investigate and depict moments of human connection. Each piece a small window to the inside, a visual representation of the connections we make with ourselves, one another and the world around us. Feelings and relationships show up as a range of hues and a variety of brushstrokes converging, conflating, diverging, and rearranging themselves to mirror our internal landscape. Consu originally trained as an Art Therapist and is interested in the relationship between psychological processes and creative expression. Her art practice is fueled by curiosity, experimentation, discovery and the pleasure of the process itself. She born in Uruguay, Consu calls Portland, Oregon her home.
Helen Kaufman works in clay and identifies her work as carved ceramic. Helen describes it best, "This latest manifestation is expressed through hours in the studio, sculpting, carving, working intimately with the clay as it hardens and challenges me to bring out more and more of its potential. Upon entering the studio, as I uncover the work from the last session, my mind's eye sees the next step as I reach for the tool that will define the contour…slowly carving, moving more rapidly as the process takes over and leaves my everyday self behind.  An hour, two or three pass…challenges me to remember to stretch, relax my arm and shoulder, take a break.Each time I begin a new piece by choosing a size and shape of moist clay. My fingers, hands and sponge begin with a shape, line or opening and one motion leads to the next as the clay takes shape and the form emerges from the solid. As the clay dries I use wire sculpting tools to further define the form.  Over time I have experimented with how much clay can be removed from the interior creating a deeply carved, complex three dimensional form."