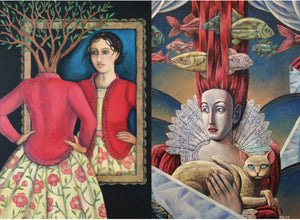 June 2011: Devin Bernard & Rogene Manas
Devin Bernard's acrylic paintings tell stories. Their images are finely detailed with a high and even tonal quality and jewel like colors.  They are colorful, with intriguing details.
Rogene Manas fashions images that literally come off the canvas with her use of paper clay & paint. With her unique, style and inventive mixed media techniques, Rogene creates sculptural bas-reliefs and textural paintings.