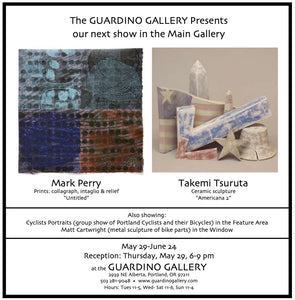 June 2008: Mark Perry & Takemi Tsuruta
Takemi Tsuruta's fascination with weapons, Americana & religion dominate his hand built clay sculptures, creating a dynamic visual narrative. His sculptures, using symbolic objects taken from historical and contemporary objects, reflect the complexities of contemporary social structures and questions the effects they have had on personal values. With ceramics, he employs an array of processes including wheel throwing, slip casting, and coil building. Aside from different processes, he also uses multiple clays, slips, glazes and firings to achieve multiple aesthetics. He manipulates the objects aesthetically, achieving textures and colors not usually associated with those objects. Because of these variations, and because the objects are not rendered realistically, they take on a more symbolic resonance.
Mark Perry's textured and abstracted prints are a combination of different printmaking processes: collagraphs, etching, or woodcuts/reliefs. The combination of techniques results in layering, multi-colors, sequences and variation. Perry started out with an individual 6" by 6" printing block and has now created over 200 blocks. They are arranged in several ways: a grid and as diptychs or triptychs. His theme for this show is called "Fate". He explains, "I think about fate in general terms.  Life is not predetermined.  It is supposed to change every day, due to the weather, our lifestyle, something we say, what roads we take, and how we live, and our moods. The theme is simple, but when the day is done, if the print isn't visually appealing, I don't care about the theme.  I will sacrifice the theme for something that looks good."
Cycle Seen 2008 presents an insight into the diverse bike culture of Portland, Oregon. Representative of Portland's thriving bicycle community is that over one hundred artists submitted more than 500 images for the Cycle Seen exhibition. The selected photographs seen here at Guardino Feature Gallery were narrowed down to form a unique collection of cyclist portraits. These portraits illuminate a range of the cyclists who live and bike in our city. The choice of location, bicycle, gear, and clothing tell a lot about each of these individuals and how cycling fits into and enhances their lives. Identifying with cycling is part of a larger portrait of the city of Portland.