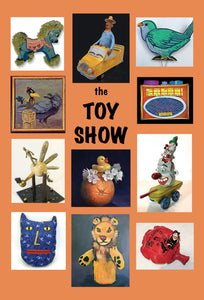 July 2023: Third Annual Toy Show
A Toy themed show created for the delight of both children and adults. 
It's time for a smile with our third annual group Toy Show.  Carefully curated artist offer handmade dolls, mechanical sculptures, puppets & paintings.  Expect surprises!
27 participating artists include: Jackie Avery, Alison Berkey, Stephanie Brockway, Matt Burlingame, Evan Burnette, Chris Cole, Ronald Conrad, James Dowlen, Cynthia Hipkiss, Wayne Jiang, Alicia Justus, Sylvan Terill Ketcham, Zoe Larson, Mavis Leahy, Jackie McIntyre, Wendy Wallin Malinow, Hickory Mertsching, Melissa Monroe, Kim Murton, Gail Owen, Susan Opie, Thomas Rude, Rodney Stuart, Karen Thurman, Tim Timmerman & Robyn Williams.