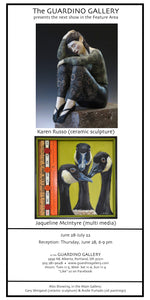 July 2018: Karen Russo & Jacqueline McIntyre
In Karen Russo's most recent ceramic work, "Hope & Despair," each sculpture responds to a world out of balance. Their bodies, bent arms, backs, and legs, are weighed down by their posture. Floral patterns both obscure and highlight their emotion and spirit. But as women connected by a common thread, their kinship rises above their own isolation. Vulnerability inspires resiliency. She uses clay to expresses a deep connection to nature. Her subjects are women from different eras and origins, all exploring feelings of strength, sensuality, and contemplation. Beginning with stoneware or earthenware clay, she hand-builds each sculpture from coil, slabs, or from a solid mass of clay. As she works, she constructs an internal armature to support the piece until it's finished. Once the sculpture is fully formed, it is cut into multiple sections, hollowed, and compressed before being reattached. Patterns and textures are carved and painted onto the surface. Her color palettes are specific to places steeped in nature. The finished work may have layers of oxide stains, underglazes, clay paint and encaustic wax. "I hope to express an eternal optimism regarding the human spirit. When confronted by the over-shadowing darkness of our country and world events, I seek light, hope, love and compassion-a counterbalance to hate and violence."
Jacqueline McIntyre
works in several mediums; oil, cold wax, assemblage and collage.
Each medium gives her a different voice to express herself. With her "Birds with Words" series she started by watching crows prancing around in the rain outside her studio window. "They began to fascinate me and I learned just how smart they were and that began my first series of crows in the rain. I photograph the birds and look for a photo that captures the more whimsical side of the of the birds. I enjoy the challenge of painting their personalities and antics. When I began painting the bird pieces I started to incorporate collage elements on the bottom or side of the painting.I am also a collector of things; all of these parts to my life lead to me creating assemblages as part of each bird painting.
I wanted the objects in each assemblage to try and tell a story about the bird." In another series her work uses oil along with cold wax. Her paintings are usually about nature, in particular Flowers, Crows and Birds.
"I find myself fascinated by the forms, colors and uniqueness of flowers whether they are living or dried.
When dried the petals curl and twist in so many interesting shapes, sometimes forming beautiful abstract patterns, it's almost as if they have danced into their new form."