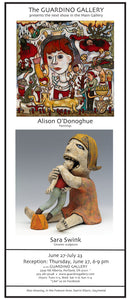 July 2013: Alison O'Donoghue & Sara Swink
Sara Swink makes one-of-a-kind, hand-built ceramic human and animal figures with a psychological stance. Introspective and ambiguous, her one-off creations often have a humorous edge.
Alison O'Donoghue paintings can be described as contemporary folk art. They are partly naïve, sometimes illustrative, at times cartoony, with some of her pieces being heavily patterned.