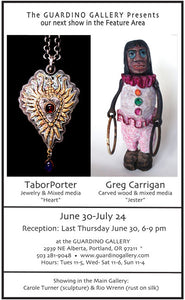 July 2011: Tabor Porter & Greg Carrigan
Long time partners, Greg Carrigan and Tabor Porter (15 years) will be the next show in the Feature Area & Window Gallery at the Guardino Gallery.
Greg will be showing his recent exploration in woodcarving and mixed media. Carved figures with found objects and rusted metal will feature prominently in his work. With the freedom to use found objects and a multitude of media, Greg fashions assemblages of wit and whimsy.
Tabor Porter will also be showing woodcarving and mixed media, but will primarily showcase jewelry. What gives Tabor's work an indefinable stamp is that many of his components are fashioned by him.  Carved and painted wood, along with metal-smithing elements, comes to play in his recent work. 
They have entitled their show "Symbols from a Collective Unconscious" and will explore their past, present and future.