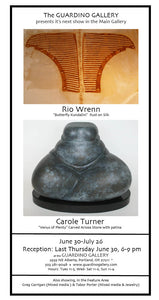 July 2011: Rio Wrenn & Carole Turner
Carole Turner travels the world to create large public sculptures. Her mediums range from marble to bronze. For this show Carole will be sculpting with a medium that is a departure for her and on a much, much smaller scale. The material she is carving is "Ariosa" stone, an aerated cement. One of the differences in her approach is her surface treatment. None of the actual material will be showing through. The surfaces will be covered with variety of colorings and encaustic treatments. Some of the surfaces will resemble limestone, some encaustic. Still others will be covered with various patinas. The metallic coatings will range from special high bronze and copper content products with patina green (same as foundry bronze patina) and others with more of a coppery/darkening mix, strong and good for outdoors. Though she will have male, female and abstract forms, her female forms are standouts. She calls them her voluptuaria. For example her "Venus of Plenty" is rich with abundant curves and rolls.
Rio Wrenn's recent investigation of the rust process on silk involves her latest rusted passion…old car parts. Rio has been attracted to the Rusting process on fabric for some time. "The natural process of aging and decay in our society and our bodies has led me to further investigate the rusting process. The individual objects I rust come together to move through the silks as they take on a personal and almost sensual feeling. I like to use raw materials as a connection to the earth and traditions of the past that creates a dialog which reflects upon our contemporary society in how we utilize our resources while finding new patterns and uses for our societal evolution." Her new favorite place in Portland is Old Car Parts. She had met the owner last year and asked him if she could borrow some of his rusted car parts.  He sells parts for Chevrolet's that range from the 1920′s to the 70′s.  "Of course I liked all the old rare rusty stuff he has," said Rio. For example, truck and car grills create interesting patterns. She has also been experimenting with smaller silk/encaustic on wood panels.