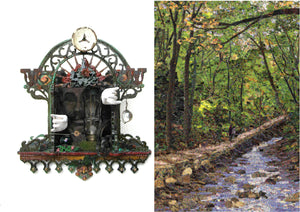 July 2007: Mary Wells & Lauren Carrera
The artwork in the next show at the Guardino Gallery invites the viewer to come in close. Intimacy with the viewer is the theme for this show with Mary Wells, mosaic paper collages, and Lauren Carrera, mixed media assemblages and dioramas. The show opens with a reception on Thursday, June 28, 6-9 pm, and continues through July 24.
Mary Wells presents a unique collage technique that she has adapted from the Italian craft mosaic minuto. In her work Wells has substituted tesserae mosaics with miniscule fragments of painted or high quality printed-paper. Many of her pieces utilize a 4 x 6 inch format reminiscent of two popular souvenir items: snapshots and postcards. Each piece contains some aspect of landscape, memory and journey
Lauren Carrera's mixed media assemblages conjure the atmosphere of theatre, the magic of scientific invention, and the poetry of photography and painting. In her one of a kind assemblage and dioramas Carrera combines found objects and manipulated photographic images with a painter's touch, resulting in works that are both thought provoking and delightful. She calls this body of work her "Phantasma" series.