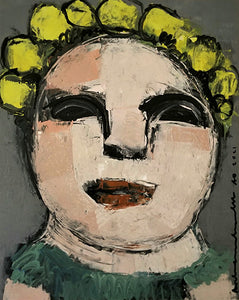 January 2022: Paulina Archambault
The modern expressionist portraits of Polish artist Paulina Archambault are inspired by people. She's fascinated by faces. Her expression is direct and compelling.
Paulina begins each painting directly on canvas, typically without a plan or sketches. Using palette knifes, brushes and acrylic paint, she develops each piece by adding and changing forms, painting multiple layers until the work feels finished. Paulina believes her work does not require a complex backstory. "If someone is not moved by my art, then it won't help to explain anything", says Paulina. Paulina studied visual art growing up in Cracow, Poland. She got her B.A. in visual art in Hamburg, Germany. Her paintings are in private collections worldwide. She now lives and works in Oregon with her husband and two children.