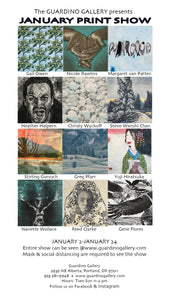 January 2021: Print Show 12 Oregon Printmakers
Steve Wenshi Chan is a self-taught artist and print maker, Steve uses his own unique way of construction and carving techniques to bring out the natural beauty of the Pacific Northwest.  His artwork brings out the serene nature of our surroundings and it lets us appreciate nature at its simplest form.  Prior to immigrating to the US in 1984, Steve had great successes as a print maker in China with many of his prints in prominent exhibitions.   
REED CLARKE "I am both a painter and printmaker who seeks to create a flow of figurative images with both subtle and overt narratives. On the one hand, my compositions portray people in order to show their unique presence, but also to somehow allude to the underlying mystery of what it means to be human. Faces and figures inhabit all my paintings and when I try to stray from this subject something I can't resist calls me back. I feel a tension when I paint between the desire to capture the subject's humanness and at the same time wrestle with the painting process itself, for it seems to me a good painting is much more than a literal representation of its subject. Once a painting is begun I'm soon lost in the actual process of discovering the interplay of color, line, volume, value and other visual challenges that must be dealt with before the painting begins to move towards a resolution. I am interested in the abstract elements of a painting that so to speak may be hidden in plain sight. In the end, I'm striving for a balance between a composition that includes a human subject that is compelling and a paint surface that engages the viewer." 
Gene Flores has been working with all aspects of printmaking for over 33 years.  A majority of his works are etchings on copper that are then hand colored with watercolors.  His works are greatly influenced by literature, music, politics, religion and everyday activities.  His images have been described as humorous, insightful, and disturbing. Gene was born and raised in El Paso, Texas and received a MA and MFA in Printmaking, with Honors, from the University of Iowa. Gene continues to exhibit his works nationally and internationally. Gene is currently the Dean of the Arts, Performance and Design division at Portland Community College Sylvania Campus.
Stirling Gorsuch My work currently explores the different ways I see time recorded in landscape. I draw inspiration from forests, the coast as well as the Cascades and high desert in eastern Oregon. Although the terrain and feeling of these places are very different, they all contain a visual recording of the past which fascinates me as an observer, such as signs of geology, erosion, decay, and a sense of new life appearing in the midst of destruction. The most dramatic example I've come across recently that illustrates this are forests affected by wildfires and how these areas transform afterwards.
Heather Halpern The Covid-19 pandemic has destroyed lives and livelihoods. People have
panicked and protested. Around the world, faces continue to communicate confusion, fear, anger, and pain. Through a series of experimental etching & drypoint prints, I endeavor to convey a universal sense of disintegration. Society became unstable and scary. Isolation eroded relationships. The distressed backdrops in my prints permeate the visage of distraught souls, representing environmental effects on humanity.
Gail Owen Linoleum printmaking melds my three passions – wood carving, printmaking, and oil-based inks – into one medium that provides endless challenges. My subject matter focuses on Northwest flora and fauna, reflecting the nature that surrounds us in Portland, Oregon. Because of the limitations of using a small etching press, my designs are planned to fit together into a larger matrix and hand sewn to a large piece of Arches paper.
Greg Pfarr centers on Place. This has always been a central focus of Greg's art. Since moving to Oregon in 1980 Greg has hiked, backpacked, drawn and painted in the Pacific Northwest, where recent trips to Alaska have heightened his interest in glaciers as a visual phenomenon. Greg's large scale etchings in his mountain series involve an interest in combining innovative and traditional methods. He  uses unusual soft ground drawing methods, traditional and non traditional lift ground aquatints and white ground as a way to combine painting and drawing methods on copper plates.
 Nicole Rawlins is a printmaker and painter. She runs the Printmaking department (Trayle Studio) and the Adult Visual Arts program at the Multnomah Arts Center in Portland, Oregon, USA. For 16 years, she was an artist member of Inkling Studio, a professional printmaking cooperative in Portland, OR. Nicole currently works out of her home studio, Pandora Press Art Studio, in NE Portland. Nicole predominantly works in intaglio printmaking, which includes etching, mezzotints, spit bite and drypoint. Her work is in the collections of several museums and colleges in Oregon. These works are intaglio's created with line etching, spit bite, aquatint, soft ground, drypoint, roulette, and color pencil. Printed from 4 plates each. 
Margaret Van Patten is a printmaker who combines various intaglio and drypoint techniques to create uniquely personal prints. Making prints is very much a process oriented art form for her, and she uses this to her advantage by working directly on the surface of the plate and letting each mark respond to the previous mark. Using a wealth of diverse symbolism and metaphors (such as birds, insects, clothing, body parts, letters and numbers). Margret creates multiple layers of meaning. She actively works to create questions about the relationships between oftentimes disparate elements. 
Nanette Wallace LETTING GO is an ongoing theme in my work. It's part of my mantra. My monotypes included in this years print show reflect my past and present artistic journeys as I navigate through my experiences and emotions during these trying times. 
Christy Wyckoff The monotypes, Slash 4 and Slash 5, explore shallow fields of interwoven branches and limbs. Bed of Stones, the lithograph, also articulates a shallow but dense field of stones and luminous cast shadows. The paper piece, Bed of Stones 2,  is derived from proofs of Bed of Stones cut into strips and woven together to create a new work that alters, repeats, and interrupts the original imagery of the lithograph from which it is formed.  Wyckoff's work is in the collections of regional museums including the Portland Art Museum, the Hallie Ford Museum of Art, the Jordan Schnitzer Art Museum at University of Oregon, the Tacoma Art Museum and the Seattle Art Museums, as well as in national collections at the New York Public Library, the Metropolitan Art Museum, the Minnesota Museum of Art and the Museu de Gravura Cidade de Curitiba, Brazil.
Yuji Hiratsuka "There are small transitions in my work from time to time, and my interest is always based on unpredictable texture that is printed from the etched surface of the copper plate. My prints explore the complex relationship of paper, ink and etched plates to describe my thought, as well as the relationship which occurs between figures and space to express other human experiences. Always I try to investigate the maximum potential available to me as a printmaker."