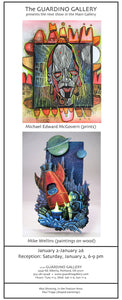 January 2016: Mike Wellins & Michael Edward McGovern
Michael Edward McGovern's work calls upon the repetitive nature of printmaking and photography to create a network of reoccurring images that he can meditate on to help search for a truth. He uses a lexicon of images that relate to specific events in his history. Repeated images of bridges, birds, trains, war, masks, urban landscapes, and old family portraits find their way into his work lending themselves to an unfolding narrative. All these images carry a personal biography, but also carry the weight of their own metaphors helping to furnish an ever-growing personal narrative. "The environments and people that have surrounded my life inform the art I create. My work is about constructing autobiographical images that explore the ghosts and spirits of my past. I am interested in how both personal and cultural histories have profoundly affected my visual language. I compose memorials to the intangible memories of my past. By visually recording impressions of specific times, places, and events in my life, I am preserving memories that seem to fade with each passing year."
Mike Wellins current show consists of pieces that are painted with acrylic and Gouache on laser cut wood panels. As a film and animation director, he works with imagery that has an underlying sense of story, and humor. "I try and create pieces and work that reward the observant viewers for noticing small details and symbolism, that might be missed at a casual glance. I also work on the idea of creating story elements that involve the viewer to decide on what the story is and what it means. My life long love of film and visual story telling also comes through in creating dimensional scenes and sets for these mysterious stories to live and to invite the viewer in. Mechanically, I also like the idea of going beyond the traditional framed art and try to create unique ways of framing artwork."