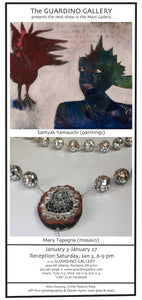 January 2015: Mary Tapogna & Samyak Yamauchi
Mary Tapogna crafts msaic lamps, portraits, sculptures and installations from 99 percent found and recycled materials.  She's long been drawn to making religious art, but likes to mix it up with secular elements. The rosaries in her current show are a natural progression from the wall of crosses at Hail Mary. "Being raised Catholic, I've always had them around," says Mary. "My mom used to collect rosaries and I feel like the rosary is a very symbolic and beautiful way to guide prayer." Some of her rosaries follow the traditional template, while others are more personal interpretations. One way she has departed on the traditional theme is to make very large rosaries, some six feet tall.
Samyak "Sam" Yamauchi paints what she likes to call playful primitives – bright, colorful, paintings with images and stories inspired by her love of color, mystery, surprise, and the wonder of imagination.  Using acrylic and pencil on wood panels, Sam's intuitive process of open focus and play, reflects how Form is created out of Chaos.  Her painting process is a reminder of the importance of paying attention, unattached observation, and the willingness to accept what comes and goes in life.  Many years of observing young children, recognition of the unseen worlds, and a natural appreciation of wabi-sabi imperfection is honored in her hidden layers, random lines, and messy scribbles.  Her paintings and accompanying titles are joyful, exuberant and offbeat, inviting viewers to make a connection with the painting in whatever way its story speaks to them.