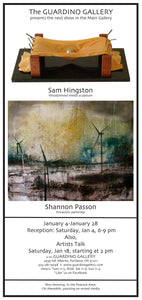 January 2014: Shannon Passon & Sam Hingston
Shannon Passon creates encaustic paintings. In her most recent encaustic and mixed media work, a series she is calling "Connectivity", she is concerned with different forms of energy and connection. The exploration spans the more physical and tangible forms of energy creation, such as wind turbines on a stark landscape, to the more intangible spirit of community, down to the ways we are connected on a molecular level. Her work is influenced by a feeling of place and the elusive quality of moments and memory.
Sam Hingston is a sculptor working in primarily wood and various media. He is focusing on capturing things like motion, an exerted force, or a particular feeling. My art is, generally speaking, a reflection or an interpretation of the forms and the symmetry we see all around us in the natural world. Whether realistic or abstract each piece is an effort to portray the simple complexities of our environment through form and structure. Though he enjoys working with a variety of media, including glass and metal, but he primarily works with wood. "Wood is incredibly versatile, making it possible to achieve more or less whatever I have envisioned..