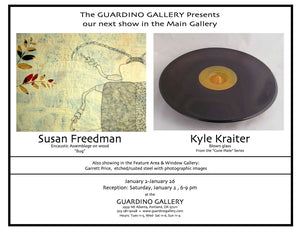 January 2010: Susan Freedman & Kyle Kraiter
Susan Freedman found myself craving more depth and texture in my work - i tried adding gels and other mediums, but couldn't achieve physically what i was picturing in my mind. then, several years ago i saw an encaustic piece and fell in love with the depth, texture and incredible luminosity. i found a book on encaustic painting and began experimenting with it. the longer i work in encaustic, the more i realize that the possibilities of this medium are endless which inspires me to keep growing and experimenting with the pieces i create. most recently, encaustic, a medium which she has worked in for the past several years. i like to explore intersections of color, texture and line using organic themes. these pieces began with detailed ink patterns drawn onto tissue paper which were then combined with encaustic medium on a board. by scraping away some of the wax under layers of pattern are revealed. art has proven to be a great form of meditation for me and these line drawings allow me to lose myself for hours at time. very relaxing.
About Kyle Kraiter: If you have ever been to Oregon, you would understand why nature has such a strong influence on Kyle's work. The curl of a breaking wave. The curve of a woman's hip. These two things, the ocean and the human form, are two of the most visually apparent influences in Kyle's work. "The true artist to which no one can compare is mother nature herself," says Kyle. "No one can compete with the pattern in a leaf or the colors of the sea." Smooth, simple line and form true to the nature of the material are what one will find expressed in both the shapes and color of Kyle's work. While his glass is not pretentious or tedious, Kyle still finds new ways to challenge the material: Don't be surprised to see him plunge molten glass into cold water and then take a hammer to the cracked surface to expose swirls of color hidden beneath. Glass has taken Kyle all over the world, and each piece he makes is made with a world of knowledge and experience that few other glass blowers have had. Kyle's work is a unique culmination of his experiences. Not just the countless number of artists he has worked with, but the people he has met, and the natural beauty of the places he has lived. Kyle makes glass you want to reach out and touch. You want not only to look at it, but to look into it, and share in the rich array of experiences, the reverence for nature, the passion for adventure, and beauty of the glass itself, all of which influence every piece Kyle makes.