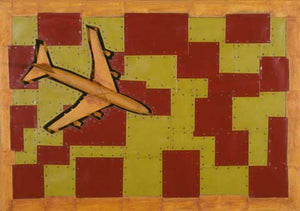 January 2002 Main Gallery: Kim Hamblin
Kim Hamblin's theme for this show is birds and airplanes. On a flight recently she became interested in the idea of flight and the connection between birds and planes. She has an admitted fascination with the view from an airplane window. The landscape looks like patchwork quilts to her.
Loving the quilt look, and not feeling an infinity with needle and thread, she translated her ideas into mixed media: wood, metal, paper and nails. Lots of nails. Much of Hamblins work involves nailed paper and metal to wood. Her work reflect her fascination with the look of upholstery. Another aspect of Hamblin's work is her use of insets, which can house anything from toy airplanes to metal birds.