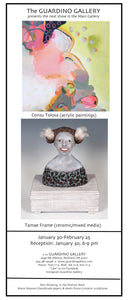 February 2020: Consu Tolosa & Tamae Frame
Consu Tolosa is a painter and illustrator from Montevideo, Uruguay who moved to Portland in 1997, fell in love with the rain, and has never left. In this vibrant collection of mixed media abstracts. Consu plays with soft and hard edges as she explores the idea of going beyond our limitations. Consu takes inspiration from her work as an art therapist, where she gets to witness folks pushing through all kinds of edges to emerge a new version of themselves. Ideas of resilience, reinvention, curiosity and play express themselves visually in bold and colorful pieces. "I enjoy being in the role of the observer, and my favorite thing to observe people. I am visually processing what I see unfolding in the world around me. "Her day job as an art therapist informs much of her artwork. In the studio she is not consciously thinking about the issues and problems, but themes of resilience, change, growth, and endurance emerge in her writings. Her abstracts are a metaphor and testament to tiny bits of the human experience.  
Tamae Frame is a ceramic sculptor . working with female figures. Since her inspiration comes from her own inner experiences, it is a natural choice for her to use the female body to convey the messages in her pieces. However, her work has shown signs of change in her depictions of figures. In the past few years, she realized her need for expressing the psychological aspect of her yang (male) side. Hence she has made some personified imaginary figures that were either boyish or genderless in her new work. Tamae was born and raised in Japan and a cross-cultural integration has occurred within her consciousness. Her work exhibits the subtle synthesis that is expressed by the absence of any nationality.She has a strong inclination to juxtapose dissimilar elements in her sculptures. Tamae has extended this concept by incorporating found objects, and her aim is to create enigmatic aspects in her sculptures.