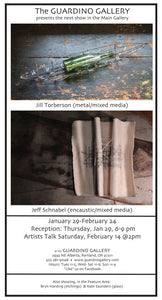 February 2015: Jill Torberson & Jeff Schnabel
Jill Torberson is a steel worker and mixed media artist. For the upcoming show at the Guardino Gallery, she and her frequent collaborator Jeff Schnabel will be looking at the theme of "Navigation." Navigation is defined as any skill or thought process that involves the determination of position and direction. Jill is working with the ideas about transportation, as well as navigating the path of emotions and the heart. One segment of the work is influenced by images of canoe building diagrams from England dating from the 1700's. These pieces are welded steel and acrylic. Other steel and mixed media sculptures take many forms, some from modes of transportation. Jill will be making free standing outdoor sculpture, as well as wall pieces and indoor sculptural work. .
Jeff Schnabel work is primarily encaustic. I was taken by the marks and landmarks that humans use in order to find their way. This show reflects my desire to make objects that reference various forms of navigation, both real and imagined.