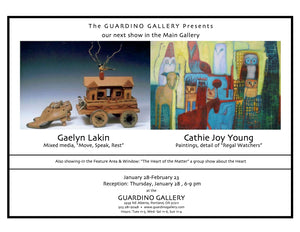 February 2010: Gaelyn Lakin & Cathie Joy Young
Gaelyn Lakin's work is primarily found object sculpture. She has an affinity for creating multi-dimensional objects. Though she oftentimes uses reclaimed wood as her material, she also integrates all types of cast off and found items. She believes used materials bring with them a unique sense of origin. They also come with a history of the previous owner's interaction with the material. It is about making the "whole" more than the sum of the parts. Lately she has been contemplating what death means in divers cultures and traditions. She came up with the literal imagery of wings. Nearly every culture integrates the imagery of birds or angles into its spiritual heritage. For ages birds and angels have been considered the messengers of God in many cultures. Thus this exhibit is the culmination of contemplation of resurrection, spirituality, redemptions held together by the literal representation of "Wings".
Cathie Joy Young uses acrylic on wood panels to create modern, urban paintings with a distinct ancient feeling to them. Her work is figurative , yet with a with an abstract sensibility. The paintings evoke atmospheric dreamscapes that hint at both modern and ancient sensibilities. Her paintings suggest a narrative that comes to us from long ago and far away places. Figures, boats, structures, and animals recur in her paintings, which at first appear whimsical, but infer a multiplicity of meanings. To quote her "These stories don't feel like they are mine. They are like borrowed memories remembered. For this reason I have never felt like I can take full credit for what I end up with, so I am always very grateful for the loan. Painting is my one and only favorite mystery." Her techniques of glazing and scraping through the paint to reveal the layers below, adding to the surface texture and at times revealing what at some point in the process was hidden.  With color and composition, Cathie Joy creates rich tapestries in paint.