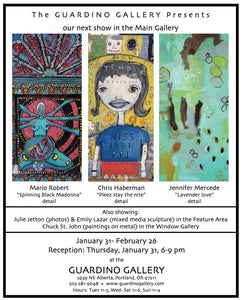 February 2008: Mario Robert, Chris Haberman & Jennifer Mercede
Three painters explore color with a slant on the urban experience. Chris Haberman, Jennifer Mercede & Mario Robert will fill the space at the Guardino Gallery with an explosion of color, words and energy. The show will open on Thursday, January 31 and run through February 26.
Chris Haberman's paintings are filled with a multitude of images, jumbled together with words, objects and figures.The images created are "folk-art" in nature, a spontaneous laying down of bright color and art materials. The final product is a deconstructed maze of primal figures, surrounded by urban settings and narrative text.
Jennifer Mercede's primarily abstract paintings consist of free flowing text, bright color fields, and crazy energetic doodling. She uses a playful, distinctive color palette that compliments the obsessive, frenetic line work and imagery of her pieces. This is doodling taken to a high form.
Mario Robert carves and paints his wood constructions and is able to convert simple materials into stunning kinetic art pieces. Each piece is an explosive colorful experience that does not end with the visuals. Mario creates textures carved into the wood an eye to the human touch.