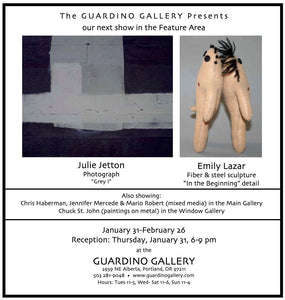 February 2008: Julie Jetton & Emily Lazar
Julie is drawn to simplicity of form whether it occurs in living beings or inanimate objects. She often finds inspiration in "manmade" objects and how their uses relate to the human experience.
Emily Lazar: Fabric and steel are the physical mediums I use to explore these themes because of their democracy, accessibility, and associated principles within our society. I hand sew every sculpture taking time and energy to make sure every stitch is done with integrity and stays true to the piece as a whole. Sewing is an act commonly associated with female domesticity and craft. I first used it as a form of creation four years ago while teaching a crafting class at an all girls summer camp. It was two years until fabric and thread entered into my work with the seriousness they have now.