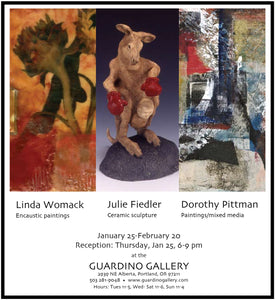 February 2007: Linda Womack, Julie Fiedler & Dorothy Pittman
Though the three artists showing at the Guardino Gallery work in very diverse mediums, their work shares a sense of feeling and intimacy. Julie Fiedler with ceramic sculpture, Dorothy Pittman with mixed media paintings and Linda Womack with encaustic paintings are the trio featured for the month of February. The show opens with a reception for the artists on last Thursday, January 25, 6-9 pm and runs through February 20.
Julie Fiedler's clay sculptures are hand build from low-fire earthenware. This show comes at a special time of life for her as she is expecting her first child. That her delivery will occur during the show's run is both surreal and providential. Though her themes expand a wide range, images of motherhood will certainly be included. Those images have often appeared in her work, usually in animal/human combinations that suggest a tension between the wild and the domestic, the artist and the homemaker. Shifts in identity have also been a focus of interest for her. All the elements are there for her for this show: humor, irony, mystery and connection.
Dorothy Pittman came to painting through clay. She explained that as a clay artist she had long marveled at the spiral folds and fleeting, accidental impressions left by the clay on the wedging table. Pittman uses watercolors, acrylics, inks and a variety of applied papers. She collects old books, maps, photos, letters, blueprints and patterns, fragments of which she includes in some of her paintings. As she explains, "When I begin a painting, I deliberately introduce chaotic, off-kilter elements. The result challenges me, slows me down, and builds tension between the awkwardness I see and what I hope will become a meaningful whole."
Linda Womack is a collage artist and painter. Her work pairs modern digital photography with encaustic painting. The effect is to give the piece a translucent surface that captures and reflects light. Other materials are often collaged into the wax medium, including dried plants, natural fibers and handmade paper. "I use the translucency of the wax to reveal layers of information," she says. "The viewer should see something very different when they are across the room, than when they are looking at my work from inches away." Linda's work can be seen in several galleries in the Pacific Northwest and on Home & Garden TV's urban craft show, "That's Clever!"