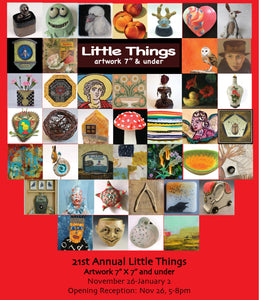 December 2021: Little Things (21 Years)
Everyones favorite show is back for it's 21st year. Forty-six artists have accepted the challenge of creating art that is 7" X 7" or under. The range of mediums is broad; from paintings and glass to fiber and mixed media. The show was originally designed for holiday presents, but more and mote people are selecting art for themselves. Once a purchase is made, the work can immediately go home. This year you will be able to buy directly on line as well. Just click on the artists you are interested in. Once you buy we will either ship to you (you pay the shipping) or It we pack it pick-up.
PARTICIPATING ARTISTS: Diane Archer, Scot Cameron-Bell, Kirsten Page Bennett, Linda Bourne, Reed Clarke, Dayna Collins, Kurumi Conley, Rosey Covert, Ralph Davis, Coco Delay, Tamae Frame, Susan Freedman, Andie Furtado, Michelle Gallagher, Mar Goman, Denise Graham, Iver & Jen Hennig, Hsin-Yi Huang, Wayne Jaing, Anya Jackson, Janet Julian, Gesine Kratzner, Denise Krueger, Lynn Latta, Mavis Leahy, Mary Lee, James Lilly, Donna Mattson, Jackie McIntyre, Jill McVarish, Hickory Mertsching, Kim Murton, Kelly Neidig, Susan Opie, Gail Owen, Shanon Playford, Dan Pillers, Kate Saunders, Siri Schillios, Elizabeth Shupe, Jill Torberson, Tracey Waldron-Chasman, Anna Wiancko, Chayo Wilson & Cathie Joy Young.