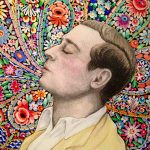 December 2016: Little Things #16
The premise for this show is simple: We asked artists to submit work that would fit into an imaginary cube that is 7" X 7". (And that includes the frame or stand) No other limitations. Every year is a surprise, with new artists added each year. One of our most popular shows. Participating artists this year are: 
Diane Archer
Emilio Berwick
Scot Cameron-Bell
Beth Collins
Dayna Collins
Kurumi Conley
Ralph Davis
Patricia Donohue
Meg Dunne
Tamae Frame
Susan Freedman
Michelle Gallagher
Mar Goman
Denise Graham
Carolyn Hazel-Drake
George Heath
Iver & Jen Hennig
Robert Huff
Anya Jackson
Janet Julian
Alicia Justus
Gesine Kratzner
Mavis Leahy
Joanne Licardo
Mari Livie
Donna Mattson
Jill McVarish
Sylvia Miller
Lulu Moon Murakami
Kelly Neidig
Angela Neiwert
Cathi Newlin
Davis Nez
Gail Owen
Dawn Panttaja
Janet Ronacher
Beth Robinson
Paul X Rutz
Kate Saunders
Suzette Shrider
Marcia T Smith
Amy Stoner
Mike Southern
Sally Squire
Mary Tapogna
Janet VanCleve
Tracey Waldron
Anna Wiancko-Chasman
Chayo Wilson
Kate Winfield
Samyak Yamauchi
Cathie Joy Young.