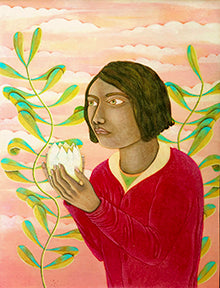 August 2022: Carolyn Garcia
The paintings in this show are done on homemade gesso panels made by my late friend, artist Dorothy Goode.  Dorothy was briefly selling the blank panels from her studio at Portland Storage several years back and I was curious.  The surface (even after sanding) is pitted and beautifully imperfect.  I normally work on paper covered board, which is very flat and consistent.  I will admit that the panels sat in my studio for a long while.  I feared them.  After Dorothy's passing I knew that I would use those panels, not only as an homage to her, but as a challenge to my own cautious precision.  Despite the pitted surface being an obstacle that had me pulling out my hair on occasion, the luscious absorbency of the homemade gesso and the way it seems to heighten color felt like a gift from Dorothy.  
The subject matter of the work, though widely varied, shares a feeling of quietude.  On top of the difficulties we have all felt in the last couple of years, my life had some major changes and struggles.  Something that I do almost daily is walk with my dog Scout.  I take great pleasure in stopping to look at and photograph bugs, plants, mushrooms, crows, clouds, and if I am lucky, the occasional slime mold.  These treasures, both low to the ground (I like to call it "bug low") or in the sky are necessary, important medicines.  I had the same approach to the work for this show.  A time to slow down, to look closely, to get lost in the hair, the cloth, the plantlife, the tree bark.  When I am sunk into these things, like a bee in a flower, fear doesn't win.  
The paintings are made with acrylic paint, colored pencil and graphite.  The black and white pieces are made with acrylic paint and graphite.