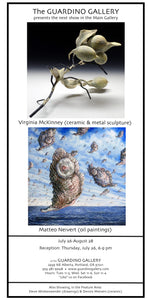 August 2018: Matteo Neivert & Virginia McKinney
Virginia McKinney employs several mediums in her work, Blossoms and Bones. "For this show I have combined two important bodies of work that have inspired and intrigued me for years – botanical forms and skeletal forms." She uses a wide range of materials but primarily steel and clay. Specifically, she uses porcelain, stoneware and earthenware casting slips and clays, natural found materials that she dips in slip and burns out, hand-forged steel, underglazes, washes, glaze, rust and post fired finished and all are electric fired to various temps from cone 04 to cone 10. Both botanical and skeletal forms are amazing complex, and beautifully intriguing inspirations for her work.
Matteo Neivert's artwork explores the powerful forces of nature and biology in real and imaginary compositions. A consistent thread in Matteo's work is the idea of change and evolution. Fragility and strength act as common themes in his work. Images are formed by enlarging small objects in a playful painterly process. Matteo usually starts without a drawing. He works in a layered fashion to form depth from the back to the foreground layering thick impasto, thin glazes, splatters, and varied brushwork to form shapes. Each piece has a unique palette of color to imbue an emotional quality to the object and its relationship to its environment. Matteo paints these objects floating, dancing, cuddling, skating, flying, and skidding across the canvas to form movement, whimsy, and playfulness.