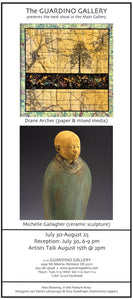 August 2015: Diane Archer & Michelle Gallagher
Michelle Gallagher is a sculptor working in clay. She is especially attracted to Asia and the Pacific Islands. Her figures often represent people from those parts of the world. Michelle is also interested in international traditions that incorporate the spiritual connection to myth. "It's been said that clay is a malleable and forgiving material but with a memory, and I have found this to be true. I actually love the tactile quality of clay and prefer working with a groggy sculptural clay to fine porcelain. Her pieces are then finished with oxides and glazes in a combination of applications. I love to garden and Oregon's climate allows for a variety of gardening options. I also enjoy building sculpture for gardens and I look for ways to incorporate art outdoors. I sometimes say, I have my hands in mud, in one way or another."
Diane Archer works with paper (maps in particular) and mixed media. Her work for this show is autobiographical. "As an artist whose work has always been about place (physical, emotional and spiritual), all these objects have me thinking about the things we accumulate during our life's journey. The art making process, for me, seems to be quite a bit about collecting and arranging. I begin with arranging layers of maps and images for a base. Starting with topographical or aeronautical maps, I select objects from boxes and drawers of treasures collected over a lifetime. These items I consider relics of experience. I then begin the somewhat tedious process of embedding the objects into the base, using vials, specimen cases, glass frames or direct inlay to capture the objects into the map substrata." All of her work is meant to acknowledge and celebrate the connections to the world around us and the world within us.