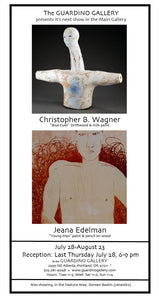 August 2011: Christpher B. Wagner & Jeana Edelman
Christopher B. Wagner uses driftwood, carved and joined, to create his sculptures, often enhanced with milk paint and encaustic. In his stretched skin series he uses pig intestines that dry and stretch around his sculptures.
Jeana Edelman creates drawings/paintings on wood using graphite pencil, dry pigment, wax-based paint & marble powder. In this body of work she has introduced words, often in a pared down poetic form.