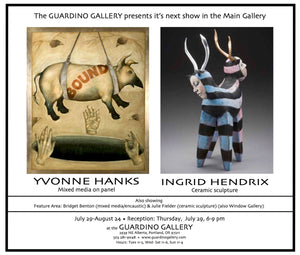 August 2010: Yvonne Hanks & Ingrid Hendrix
Yvonne Hanks Though many of my pieces depict what appears to be he traditional subjects of figures and still life, this body of work is an exploration of contradictions within these theme. I am intrigued by the idea of showing situations that seem natural, but at second glance is quite the opposite. Flowers made of metal or mingling of various animals perched in vicarious positions are both examples of this concept. It has always been my contention that it is possible for friction and harmony to not only coexist, but that there can sometimes even be comfort with this contradiction.
From a technical standpoint, my method of working has always involved integrating drawing and painting in the same piece, and using both additive and subtractive methods together. Another theme that is consistent across most of my work is the overt use of seemingly disparate images to fill the composition.
For this particular body of work, I am experimenting with brighter more vibrant colors in comparison to the more muted tomes that have usually grace my palette.
Julie Fiedler is a ceramic artist who creates beautifully formed and colored figurative/organic sculpture. Sea life mixes with fantasy figures to create her intriguing stories. She sculpts clay to explore her fascination with people and their connection to the natural world. Tide pools, the dioramas of the ocean, are a particular draw for her. This show features two life-size self-portrait busts embraced by marine organisms and a window display of anemones and fish. Using low-fire clay and multiple firings, Julie creates detailed, humorous, evocative reflections of her meditations on people in nature.