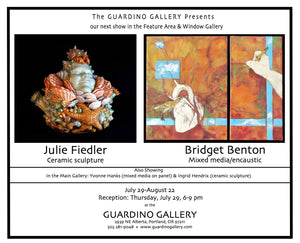 August 2010: Julie Fielder & Bridget Benton
Julie Fiedler is a ceramic artist who creates beautifully formed and colored figurative sculpture with an organic twist. Sea life mixes with fantasy figures to create her intriguing stories. She sculpts clay to explore her fascination with people and their connection to the natural world. Tide pools, the dioramas of the ocean, are a particular draw for her. This show features two life-size self-portrait busts embraced by marine organisms and a window display of anemones and fish. Using low-fire clay and multiple firings, Julie creates detailed, humorous, evocative reflections of her meditations on people in nature.
Bridget Benton is a mixed-media artist who uses layers - layers of images, of media, of memory - to tell visual stories.  "I generally work without much of a master plan," Bridget says, "but will find that relationships emerge between the objects and images I use, relationships I wasn't expecting.  And so stories will emerge, stories like fragments of memories.  I know what they conjure for me during the making, but anticipate that what they inspire for the view will be completely different."  Bridget works primarily with encaustic, embedding drawings, fibers, papers and her own photographs as well as found objects and imagery between the layers of beeswax, resin, and pigment. She also highlights the surface with pastels and incises lines into the wax, filling them with oil paints.