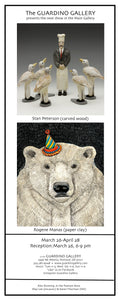 April 2020: Rogene Mañas & Stan Peterson
Stan Peterson Stan, a self confessed whittler, finds moments in everyday life which seem to transcend into open ended short stories. The process of chipping away at pieces of basswood allows his mind to wander dow pathways least traveled resulting in wood carved sculptures that are poignant, yet feel like "everything is going to be OK." Animals are ever-present in Stan's work and may assume human characteristics. His monkeys seem more than primates, his seagulls wear shoes. Stan has created a version of Chef's Table with sea gulls, and "The Maitre d' at the Sea to Table Bistro" is finding a table for a party of penguins. Since taking a paper clay workshop from Rogene, Stan has started using the clay as a sculpting medium for his wall pieces. In a recent collaboration, Stan carved a wooden man in a wide brimmed hat who holds a paper clay heart made by Rogene in his hands.  
Rogene Mañas. Drawing upon her background in design and illustration, Rogene creates art with inventive mixed media techniques in a commentary on the current world. From climate change and endangered species, to health issues and human rights, her iconic imagery affirms the power of positive change. In this show, Rogene is sharing work she has been saving for this special time. Rogene's collection of paper clay art pieces entitled "The Going Away Party" illustrates endangered and threatened animals wearing party hats. Her "Everyday Saints" are a collection of visual affirmations she has created to bring attention to life's challenges. And her collection of paper clay milagros are asking for miracles needed for healing. The charm and accessibility of her work often has a sharp edge softened with a prayer to counterpoint the daily news.